Shopping Basket
Your Basket is Empty
There was an error with PayPal
Click here to try again
Thank you for your business!
You should receive an order confirmation from Paypal shortly.
Exit Shopping Basket
Come join us at www.AllRightMoves.com
Professional Unpack Services
I am always doing things I can't do, that's how I get to do them.

- Pablo Picasso
Early in 2010 I researched a craft that caught my interest.  In March I blogged about coffee sleeves made from recycled fabrics.  I am happy (and excited!) to report that in September I took out the sewing machine my husband bought me last year, read the instructions and got started....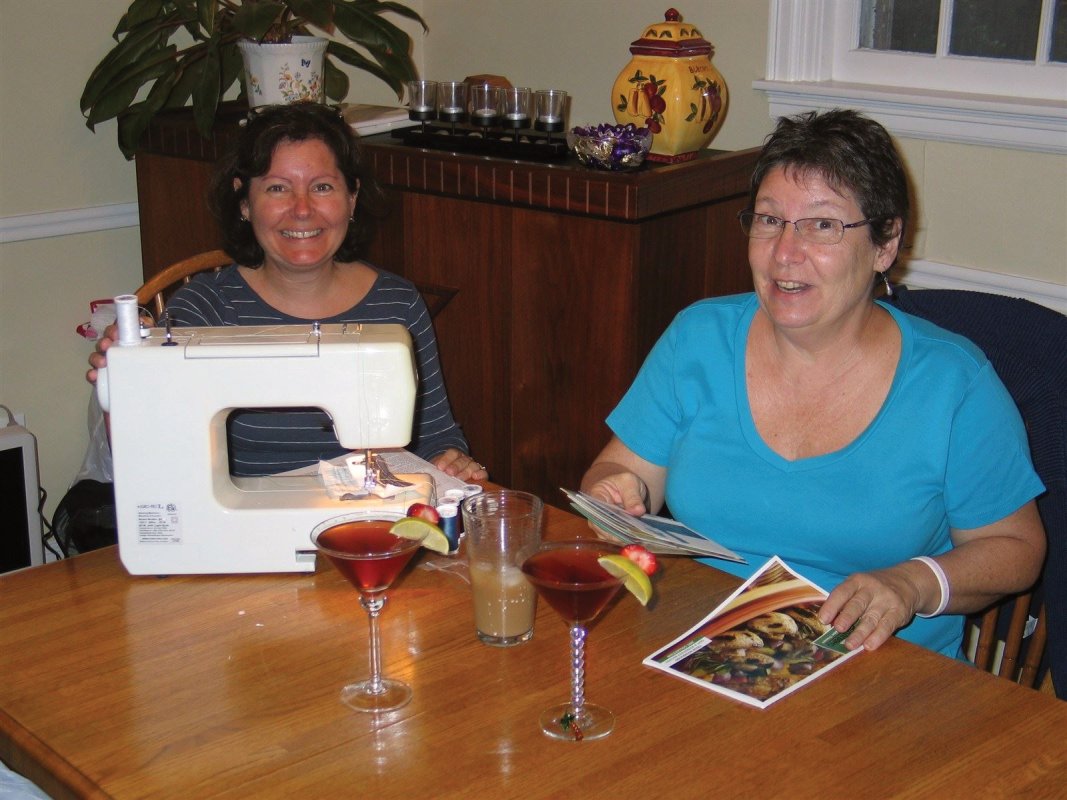 "Threading My First Bobbin"
Me, my sister Loretta, (and 2 Cosmos)
I figured out the machine.  I bought some cotton batting.  Then I took the old shirts, jeans, fabrics, etc that I had collected and washed and used a cardboard coffee sleeve to use as a template.  Once I made my first, I figured out how many I needed to make per week in order to have them ready to give as Christmas gifts and voila!
January 15, 2011  

Electronic waste accounts for 70 percent of the overall toxic waste currently found in landfills.
                                 - Global Futures Foundation                  
I received some pretty cool gifts for my birthday this month and one of them was this:
It's a bowl made from an old vinyl record album ("Saturday Night Fever" actually!).  My son picked this up for me in Philly.  I really love this.  It's an album from my era and looks great as a decorative bowl on my piano.
This makes me think about how we sometimes have a hard time parting with the things that were connected with our youth - even though we may never even pull them out of their
storage boxes
again.  And, especially when it comes to technology, even if we do venture a trip down memory lane the things we find may be unusable or toxic to just throw in the garbage.
If you're hanging on to records, cds or computer discs that you no longer have the technology with which to run them on, you have some choices.  
Try a
craft
.  For vinyl records, you can actually
make your own bowl
like the one my son gave me.  Old cds can be turned into all sorts of other items: coasters, sun-catchers, even
clocks
!
If you don't feel up to crafting but are still motivated to clear out some old stuff, make sure you dispose of your techno-junk responsibly.  Participate in local electronics recycling events in your area or check
Earth911
to find out how and where to dispose of it.
April 1, 2011 

Use it up, wear it out, make it do, or do without.
-New England proverb   
Dare I say, Spring is finally here?  Yes, I am going to take the bold step forward and declare it!  And, with the promise of warmer days ahead, we can turn our sights to venturing outside and preparing our gardens.  Whether you have a large yard, just a small patch of earth, or even if your springtime greenery is indoors, there are ways you can enjoy the cathartic act of planting without spending more than the price of the seeds or plants.  
Sprucing up your garden with a new theme or creating a new planting space, inside or out, can be done simply through the use of some of the things you have
lying around your house
. 
An old pair of worn out work boots make a great containers for outdoor flowers.  A brightly colored chipped piece of pottery adds it's own color to greenery.  An old mug that you like or a small bowl are also great options.
Just last week my daughter mentioned a planting idea she had seen that she'd like to try in her apartment.  It is to use hanging shoe pockets.  I love this idea and think it would also be great for growing an assortment of herbs in or near the kitchen.  What fun!  Take a
look.
April 15, 2011 

"And the tree was happy"
The average American uses approximately one 100-foot-tall Douglas fir tree in paper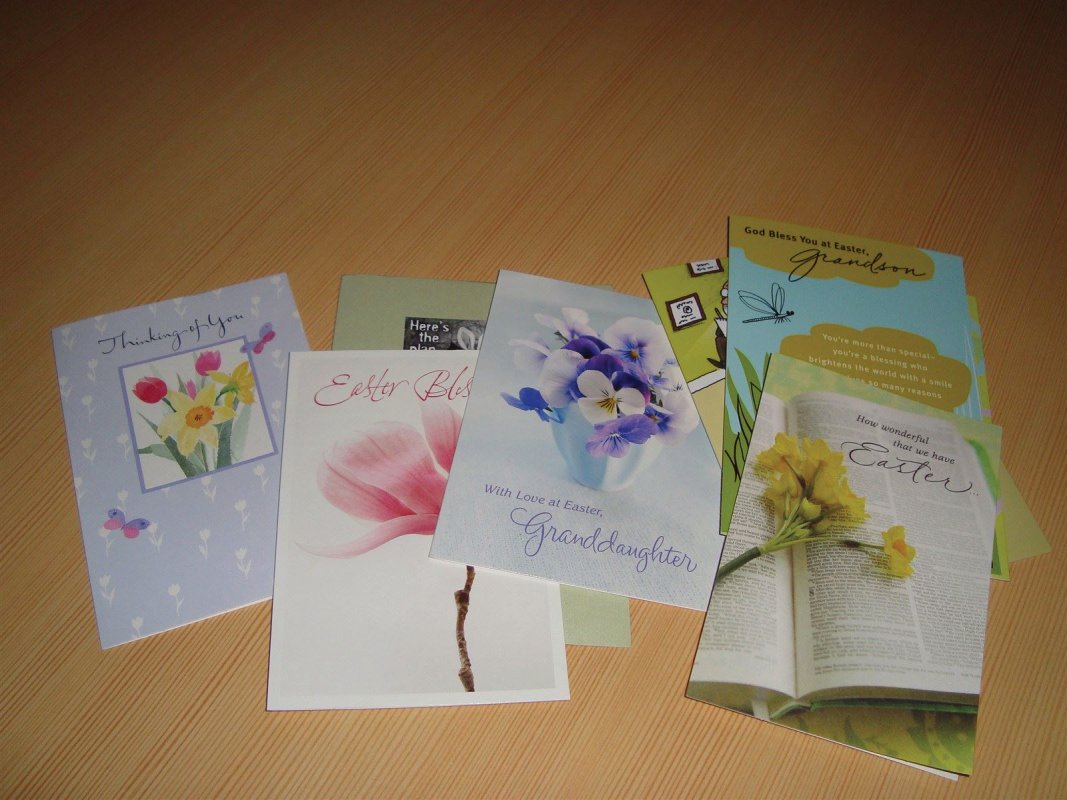 Electronic correspondence is truly a wonder.  
We can keep in touch more than ever with our families, friends, associates, clients and acquaintences.
We are able to set up holiday, birthday, anniversary and special event reminders and then to follow up by sending an "e"-card to acknowledge them - amazing!
Yet, there are still many of us who enjoy checking the snail-mail box and and finding an actual piece of correspondence.  
For instance, the Hallmark company estimates that Americans send out approximately 57 million cards.  We will send about two and a half times that for Mother's Day.
Acknowledging important people in our lives 
in this time-honored and meaningful 
way can be a treasure more than any other "thing" we might give.
But giving doesn't have to stop there.  Our life cycles continue and it is important for us to continue to thank, honor and return the favor to the givers.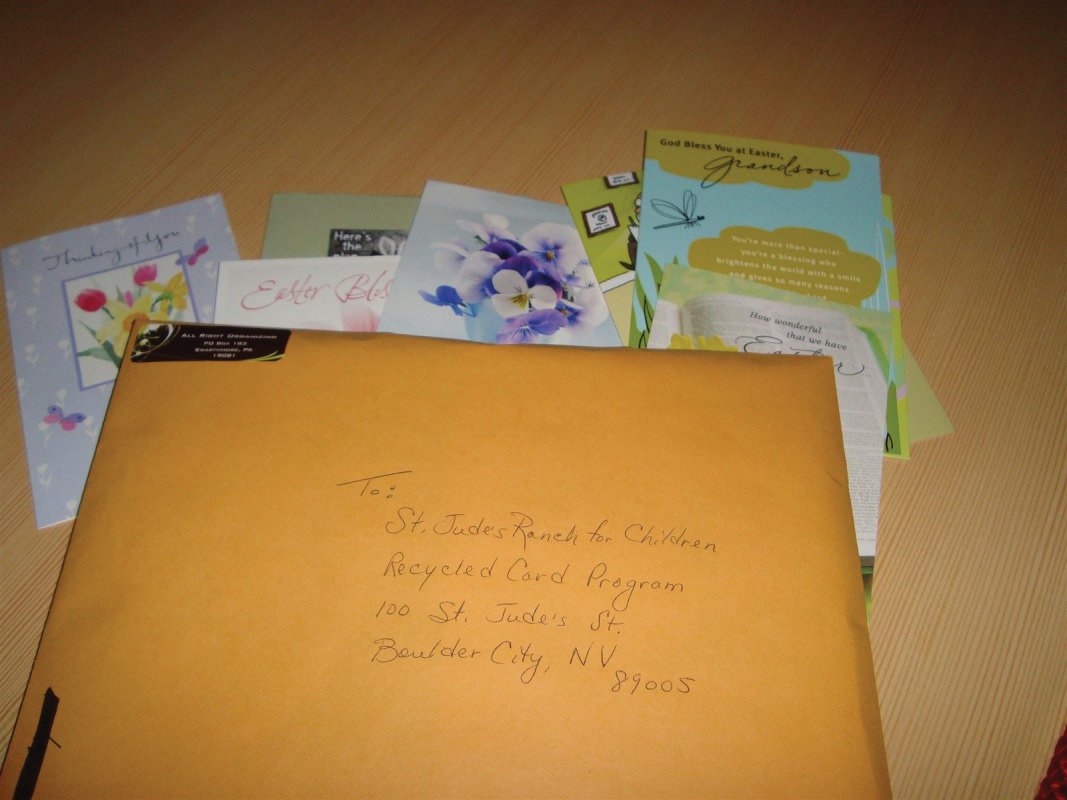 Here's how: 
Keep one manila envelope in a file.  Shred the envelopes and toss in the greeting cards you have received and are done with.  When the envelope is full,
send it
to
St. Judes Ranch for Children
to be made into new cards.  They accept all types of cards (Thank You, Get Well, Birthday, Mother's Day, etc).
The path to conservation starts on your doorstep. 
May 2, 2011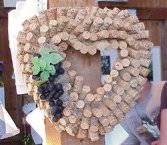 What contemptible scoundrel stole the cork from my lunch?  
~ W. C. Fields
So, is yours one of those families who like to save corks?  Well, mine is.  It's a habit that seems to go on throughout the generations of my family.  At one point in time, I remember a scare about the worlds supply of natural cork running out and the eventuality of having only synthetic corks to use.  This, I must admit, is not something that I can verify nor have witnessed at all.  There seems to be no shortage of wine, and no shortage of natural cork.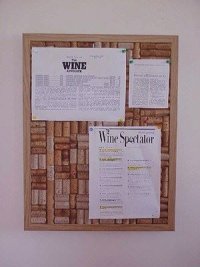 Still, I still continue my obsession with saving corks!  Several years back, my brother gifted us all with hotplates made from some of the corks he had collected.  This was especially appreciated since my brother's good taste afforded a nice display of a wide variety.  Kits for projects like this are available in many common house-ware stores.
It's always a
good idea
to have an end purpose in mind (like my brother's cork hotplates) for anything that you like to collect.  Collecting can be a fun pastime, but finding a way to enjoy and share your collections is a way to enrich your life.
May 15, 2011 

"Only when I saw the Earth from space, in all its ineffable beauty and fragility, did I realize that humankind's most urgent task is to cherish and

preserve it for future generations." 
— Sigmund Jahn, German Cosmonaut
Do you buy bottled water?  I do.  Not quite so much anymore though.  I bought it by the case for several years until my oldest son decided to be a conscientious objector and asked me to stop.  He was right.  There are so many
re-usable bottles
being made (and sometimes even handed out) now that there is often no excuse but laziness in using the plastic pre-bottled water.
There has also been some discrepancy in the recent past over whether or not it is (chemically) safe to keep freezing, re-heating and re-using all forms of plastics.  Although, it seems to be agreed that the freezing/thawing process does not release any harmful chemicals from the containers.
Whether or not the plastic bottles we use release harmful chemicals, they undisputably are creating an incredible waste issue.  A waste issue that can be remedied by a just a little forethought.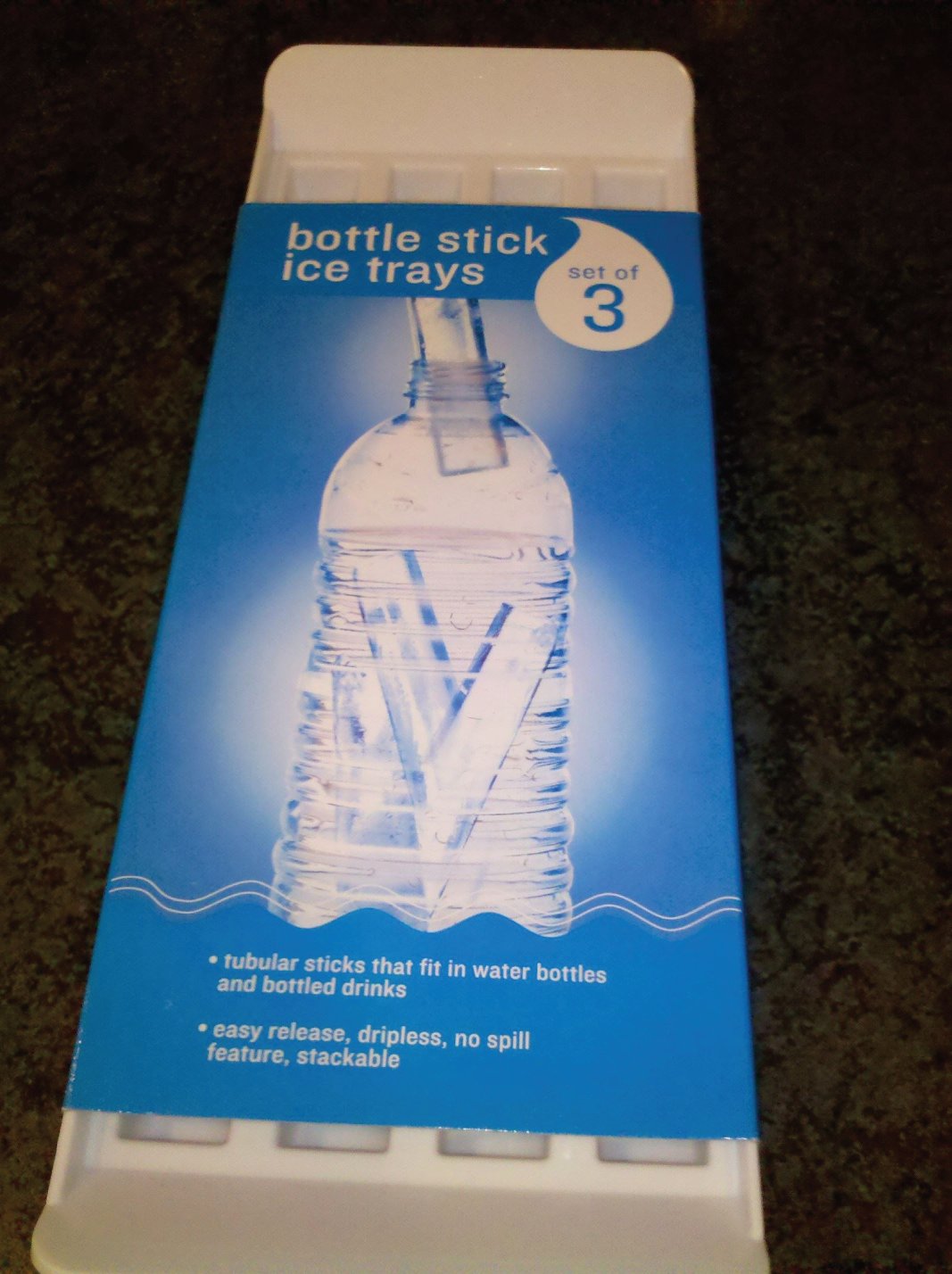 Earth 911
reports:
According to the Beverage Marketing Corp, the average American consumed 1.6 gallons of bottled water in 1976. In 2006, that number jumped to 28.3 gallons.
More than 2.4 billion pounds of plastic bottles were recycled in 2008. Although the amount of plastic bottles recycled in the U.S. has grown every year since 1990, the actual recycling rate remains steady at around 27 percent.
Here's one item I just purchased to help encourage our family (and myself!) to choose the re-usable drinking containers that we own over individual disposable drink containers.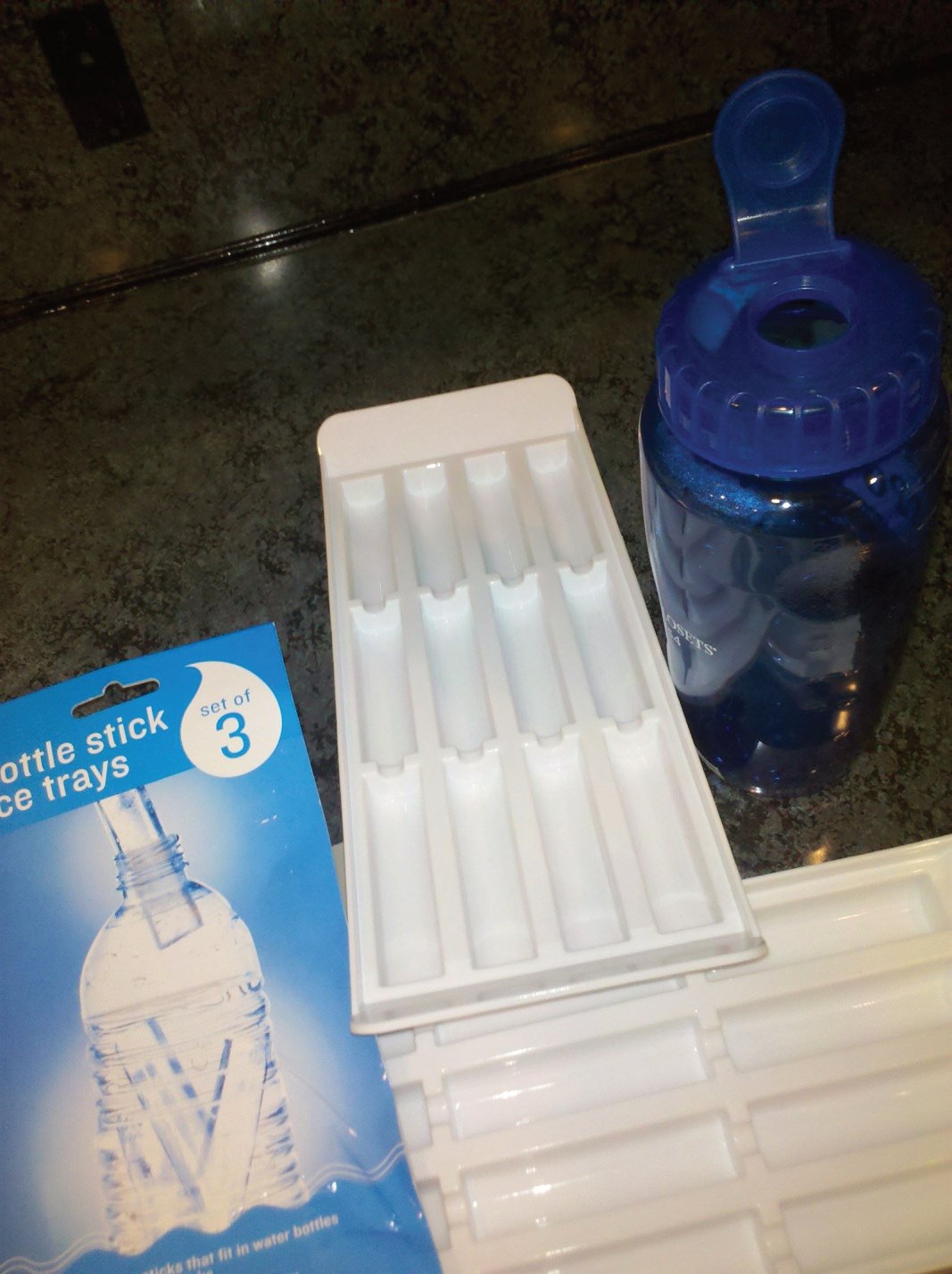 I needed some
ice trays
and I came across these.  
The great thing is that you can use the ice in a glass at home or grab some long cubes, throw them in a bottle and go!  It makes using the re-usable bottles fun - and no more having to freeze water bottles.  I'm happy.  Try them!
June 15, 2011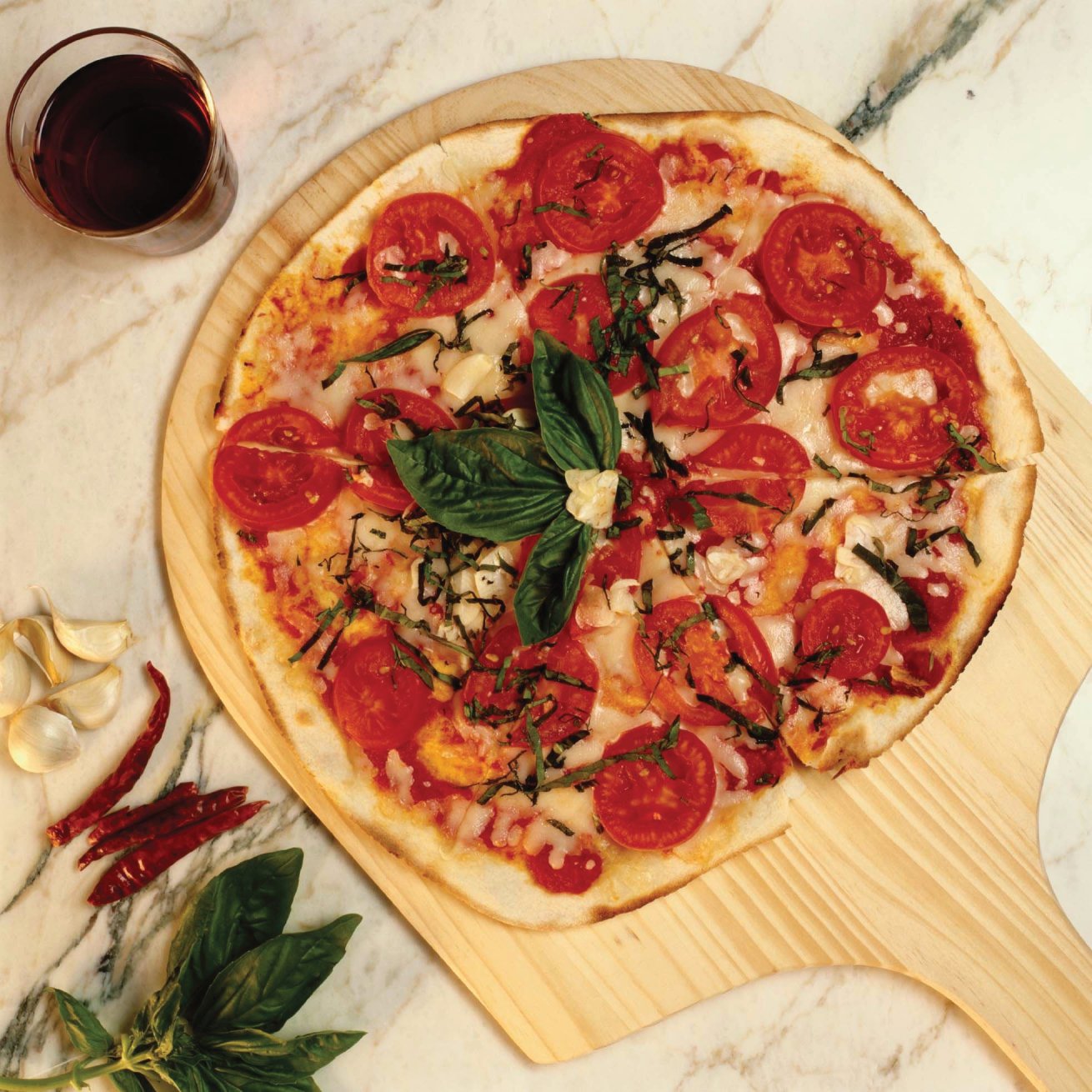 "When the moon hits your eye like a big pizza pie, that's amore."

- Jack Brooks 
According to the EPA, " paper and paperboard products make up the largest portion of the municipal solid waste stream in the United States and as a result, offer the greatest opportunity to recycle". 
We have taken great strides in this decade to cut down on unnecessary paper usage. Finding ways to re-use and recycle paper
is becoming increasing popular in our country and
makes up approximately a third of all paper products, clearly a benefit toward conserving our natural resources.
Yet, as paper recycling becomes more commonplace, we must also remember to keep aware of the guidelines for proper recycling in order that our efforts are not in vain. 
boxes, for instance, while recyclable, are good ONLY when they are clean.  Any food residue or even grease renders the cardboard merely waste.  The food or grease is a contaminant that can (and does) ruin entire batches of paper.  What does this mean to us?  It means that MILLIONS of dollars are lost each year due to contaminated recycling.
The moral of this story?  Take the time to look at your recycling guidelines - keep the grease on the wheel, not in the
recycle bin
.
Aug. 1, 2011

/