Shopping Basket
Your Basket is Empty
There was an error with PayPal
Click here to try again
Thank you for your business!
You should receive an order confirmation from Paypal shortly.
Exit Shopping Basket
Come join us at www.AllRightMoves.com
Professional Unpack Services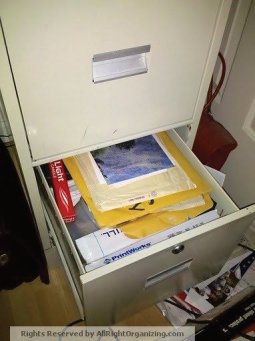 Paper invades your house on a daily basis. Mail, bills and statements, arts and crafts, magazines, school papers and sticky notes are inevitable, but they don't need to take up space or clutter your home. Organizing them and coming up with a system that works for you is key to keeping the clutter at bay.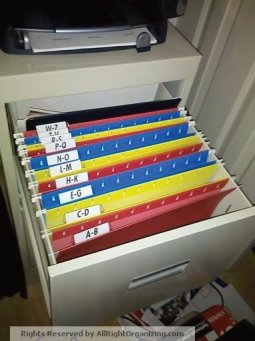 Create a System That Works For You
Before you begin organizing take some time to think about a system for filing that makes sense to you. Ideas for categorizing your paper work and documents: ·      Household Documents ·      Business Documents ·      Car ·      Insurance ·      Medical
Wrangle the Mail Controlling your mail is one of the easiest ways to avoid paper clutter. First, go through all of the mail you have laying around. Toss the junk and place all of your bills and important papers in an accordion file. To keep mail from stacking up, sort everything the minute you walk in the door. Immediately toss junk or anything that doesn't interest you. Also, go online and have your bills sent to your email box instead of your mail box. Most utilities, banks and credit card companies offer this option. Consider purchasing a scanner and getting all of your important documents and paper work in electronic form.
Manage the Magazines If you're a magazine subscriber, it's likely you have a stack or two of magazines cluttering your home. Try these steps to keep your collection of periodicals more manageable:
Toss any magazines you've read or donate them to a friend, hospital or local doctor's office. You could even leave them in the break room at work.
Buy a small basket and set the basket by your favorite chair. Whenever you get a new magazine, keep it in the basket so that your reading material is always handy.
Try getting e-subscriptions and loading them to a tablet or e-reader.
These tips also work well for newspapers.
Sort Out School Work If you have kids, at least once a week a backpack is unloaded and you are presented with a mountain of graded worksheets, permission slips and school newsletters. Here's how to keep it organized:
Go through your child's stack of paper while sitting near a trash can. Throw away everything you don't want to keep.
On a wall calendar, write down important dates found on newsletters and then trash them.
Put drawings and other artwork you want to keep in an accordion file, that way you can organize the artwork by year and/or child.  Another great idea is to purchase some bright colored frames and display their artwork in your home – this looks great and helps you stay organized too!  
Sign permission slips right away and then put them right back in the child's backpack.
Stick It to Sticky Notes While sticky notes can keep us more organized, they can also create clutter.  Try a digital version of sticky notes on your computer or smart phone and be sure to throw away any real note as soon as you don't need it any more. Using these tactics, paper clutter in your home will be a thing of the past and you can focus your energy on more important things.  

Paul Benjamin works for
EZ Storage
, a company providing self storage to the Philadelphia metro area for over 40 years.
/